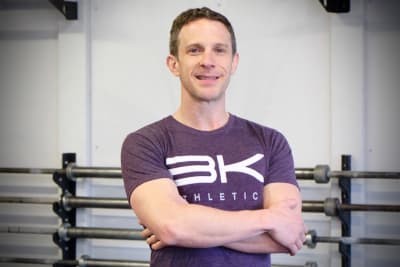 Diego Dalan
Diego's interest in fitness started at a young age, playing sports throughout childhood and into his teen years. After high school, Diego would find himself in the weight room of the local YMCA following workouts he would read about in Men's Health and other fitness magazines. When the weather was cooperative, he'd be out running 5K's and other small road races. Diego was in good shape – at least he thought he was.
Then in 2009, Diego was introduced to Ben Kelly and CrossFit. A workout involving wall balls, overhead plate lunges, and a little running left him smacked. He was hooked. Six months later, and after some nutritional tweaks, a better knowledge of sleep and stress, Diego found himself in the best shape of his life.
Diego is now a Level 1 CrossFit instructor, certified in CrossFit Mobility and Movement and is a current student of the OPT Coaching Certification Program. He has a passion for helping others achieve their goals and believes that food and flexibility are the foundations of fitness.
Diego grew up in Greenwich, CT and currently lives in Fairfield with his wife Lauren and sons Matteo and Sebastian. He holds a degree in Graphic Design. When he's not training, Diego spends his time being active, getting outdoors and spending time with family and friends.
CrossFit Level 1 Certified, 2009, 2015
CrossFit Movement and Mobility Certified, 2010
OPT CCP Assessment PIP, 2011
OPT CCP Program Design PIP, 2011
OPT CCP Life Coaching, 2014
OPT CCP Nutrition, 2014